Fibromyalgia Diagnosis and Treatment
When you are not sure whether you have Fibromyalgia or not, you should visit a doctor. He will examine you and ask a few questions for proper diagnosis of Fibromyalgia. If you are suffering from this disorder, then he will also suggest the best treatment. In this post, I will explain the steps involved in Fibro Diagnosis and treatment. Even I will share some life care tips through which you can deal with this medical problem efficiently.
Fibromyalgia Diagnosis
In the past, a doctor used to press 18 specific tender points to know whether a patient was feeling pain in those areas or not. However, now, this diagnosis process changes a bit. These days doctors diagnose Fibromyalgia based on a single fact like if a person has been feeling widespread pain for at least three months; and there is no underlying medical condition which causes pain.
Blood tests
There is no specific test which helps a doctor to confirm fibromyalgia diagnosis. However, he still asks you to have a blood test to check whether you have some other medical condition or not. Symptoms of Fibromyalgia matches to other medical conditions. Therefore, a blood test helps the doctor to understand your pain and problem better. He usually asks for following blood tests such as Thyroid function tests, Rheumatoid factor, Erythrocyte sedimentation rate, and complete blood count.
What to do before your appointment?
If you think that you have Fibromyalgia then definitely you need confirmation. Only an expert doctor can diagnose this chronic disorder. You may see more than one doctor before you get a diagnosis. You can get recommendations from your friends about the best doctor who is specialized in rheumatologist.
When you meet your doctor, he will ask about a wide variety of personal and medical questions. These questions are :
How long have you been feeling widespread pain?
Do you have a sleeping disorder?
What fibromyalgia symptoms you noticed?
What medical condition you have?
What medication and supplements you are already taking?
What medical problems your parents and siblings have?
Do you feel depressed?
Do you experience anxiety from time to time?
What is Fibromyalgia treatment?
One thing you should know at this point is that only medicine can't help you handle this chronic disorder. If you want to minimize symptoms that would improve your health, then you will have to focus on self-care routine as well.
Medications:
A patient of Fibromyalgia feels pain all over his body, so the first thing which your doctor prescribes is some pain-relievers. Many patients experience depression and anxiety. To handle this problem, a doctor prescribes an antidepressant. The purpose of all those medicines is not only to drop down your body pain level but also to improve your sleep.
Here are some common medications used in the treatment of Fibromyalgia.
Pain relievers: Doctor often prescribes pain reliever such as tramadol (Ultram). Even when you don't go to the doctor, you can have some over-the-counter pain relievers. They include acetaminophen (Tylenol, others), ibuprofen (Advil, Motrin IB, others), or naproxen sodium (Aleve). You should not use Narcotics to alleviate your body pain level because they might worsen your pain over time. Even some patient start depending on it after constant use, so it is better to avoid it and opt for other pain killers.
Antidepressants: When you have Fibromyalgia, you feel depressed, and this feeling affects your quality of sleep. You feel tired. You can deal with such issues with Duloxetine (Cymbalta) and milnacipran (Savella); both medicines help in pain and fatigue relief. A doctor may prescribe amitriptyline or cyclobenzaprine; they can let you have a good night sleep.
Anti-seizure drugs: There are some medications used for epilepsy treatment; studies show that such medicines are also working as a pain reliever for a patient with fibro. Sometimes, Gabapentin (Neurontin) is used to minimize symptoms of Fibromyalgia. FDA approved e pregabalin (Lyrica) as the first drug to treat Fibromyalgia.
How to Treat Fibromyalgia with Alternative medicine?
There are specific alternative therapies which are being used all over the world to reduce pain and drop down the body stress level. Some of these therapies work like a magical pain reliever and also help in dealing with chronic illness such as Fibromyalgia.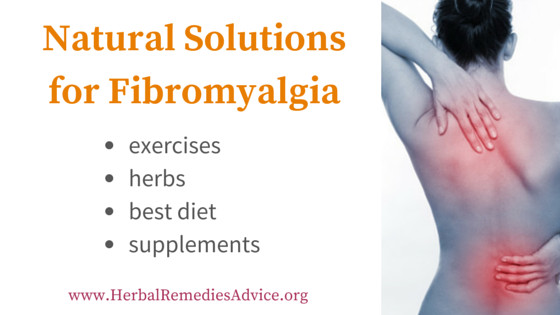 These therapies have been used for thousands of years. But, recently they became popular after thousands of patients share their success stories. A few treatments proved very helpful in dealing with depression. However, still there are many therapies which are quite popular but, we don't find reference studies that could prove their effectiveness.
Acupuncture: It is a prevalent Chinese medical system in which fine needles are inserted to various depths through the skin. The primary purpose is to restore average life balance. Western theories of acupuncture suggest these needles bring changes in the level of the brain's neurotransmitters, spinal cord, and blood flow. Some studies prove this therapy helps in reducing symptoms of Fibromyalgia while others show it utterly useless practice.
Massage Therapy: A patient of fibromyalgia experience pain in the back and neck. He also feels that some of his body muscles are stiff. In such a scenario, massage therapy proves very useful. Body muscles and soft tissues get relaxed after a massage. A good massage to relax your muscles, reduce heart rate, improve blood, and boost up the production of natural painkillers in your body. Also, you can alleviate your body stress level through a good massage. A simple oil hair massage would relax neck muscles and help you enjoy a good night's sleep.
Yoga and tai chi: Both therapies are proved useful in controlling symptoms of Fibromyalgia. Yoga is an effective way of handling depression and anxiety because you learn to stay calm and focus through it. On the other hand, tai chai combines meditation with deep breathing, slow movements, and relaxation; all such ingredients work as pain relievers and muscle relaxers.
What are the best Fibromyalgia Therapies?
Therapy is an effective way of controlling the effects of fibromyalgia symptoms on your body and life. Here are three standard treatments you can consider going for.
Physical therapy: To relax your muscles and to get relief from body pain, you should think of having physical therapy. It will improve your strength and stamina while adding positive thoughts in your mind.
Occupational therapy: People with fibro experience "Fibro Fog"- they find it hard to think, analyze, and memorize. This symptom affects their routine official work. It is suggested to get help form an occupational therapist. He would help you deal with your everyday work and tell you how to make adjustments into your work schedule in a way that you don't end up in stress or depression.
Counseling: Patients of fibro feel low most of the time, they become anti-social, and they lose interest in their life and work. It is suggested to sit with a counselor and speak up for your mind. A few sessions with a counselor would help you get back your lost self-confidence. He will guide you the best way to deal with day-to-day stress associated with your medical disorder.
How to Do Self-Care?
If you want to manage Fibromyalgia, then you have to make some special efforts for it. Self-care is a vital part of handling well this chronic disorder. It is important to do some exercises, keep your body and mind relaxed whenever you have some time. Don't overburden yourself with routine tasks. Try to take a break from time to time.
Try to Reduce Stress: You should avoid any unwanted stress. For example, you need to learn how to say no, when you don't want to do something. It is just an example, but there are many other ways. Learn to let go and don't stick with the emotional stress of your relationships. You should learn stress-management techniques. Think of doing meditation and exercise.
Get Proper Sleep: Patient with Fibro often experience fatigue. This problem can be tacked to have a proper night's sleep. Make sure to sleep for 8-10 hours at night. Don't opt for daytime napping. Go to bed and get up at the same time every other day. A proper sleep routine will keep your body and mind relaxed.
Exercise: You can't do yoga when you start experiencing widespread pain at first. However, when you get used to your pain, then the next thing you should add to your lifestyle is to go for light exercises. Stretching muscles, sound pressure, and relaxation are regarded as the best routine exercises for the patient. However, when you maintain a routine for use, you should go ahead with other typical activities such as walking, biking, swimming, and water aerobics.
Focus on your Diet Plan: Don't eat unhealthy and junk food. Instead, you should focus on healthy eating. You also need to reduce your caffeine intake. A healthy lifestyle is a great way to deal with fibromyalgia symptoms.
Wrap Up:
Fibromyalgia is a chronic disorder whose symptoms can be reduced only when you focus on your diet, health, and routine life. Once you diagnosed with this disorder, make sure you pay attention to self-care because only medicine intake won't bring any good result for you. Massage therapy is what we all required in a month. However, you can think of having this physical therapy once a week as it would drop down stress level and relax your stiff muscles. Still, have some questions related to Fibromyalgia diagnosis and treatment? Feel free to ask.