Fibromyalgia is a chronic disorder characterized by widespread pain, sleep disturbance, mood problems, tenderness throughout the body, and fibro fog. Both men and women are victims of this disorder. However, both sexes experience symptoms of this disease differently.

According to U.S. government statistics, women are diagnosed with fibromyalgia in almost 90 percent of all cases. It means only 10 percent of men diagnosed with Fibro. That is why this disorder was first known as women syndrome since it victimized women more than men. However, now the question is, why does fibromyalgia affect women differently. In this article, I will provide you some reasons behind this known fact.

Painful Menstrual Period: Estrogen level plays its role

Female patients often complain that they experience severe menstrual pain. It is because of women hormones which play a role in the severity of this disorder. Many women tell their doctor that they experience fibromyalgia pain at its peak before and during their period. All this happens because of hormones fluctuation. Estrogen level drops before menstruation period and tends to increase once this period is ended.

It is believed that estrogen protects the body from the pain. When women have low estrogen level during the period, then they experience a high pain level. Hormone fluctuation in their bodies results leads to experience different pain level before and after the menstrual period.

Many female patients of fibromyalgia belong to age group 40-55 years. Women of this group often experience post-menopause or menopause. Therefore, they complain about intense, fibro pain. Menopause seems like the worst experience for a woman as she feels soreness, anxiety, crankiness, and achiness.
The main reason for this severe pain level is that the body starts producing forty percent less estrogen than before. Estrogen control serotonin, which in turns take control of your mood and pain. 
Women who are in their stage of perimenopause or around menopause experience some symptoms similar to fibromyalgia. They tell their doctor that they feel pain all over their bodies, lack of quality sleep, tenderness, anxiety, and depression.

Intense Pain Level

Women with fibromyalgia complain about an intense, deep, and dull ache. They say that the pain starts from one point and then it leads to other parts of the body. It is a kind of pain which comes and goes. Sometimes, they have some sort of pins and needles sensation in some parts of their bodies.
They feel it hard to set a proper work routine for them due to high pain intensity. Fact is that women experience higher intensity pain than men, and the root cause decreases in estrogen level in their body. Even they experience longer pain duration than men. They describe their pain as hurting all-over their body.

Tender Points in Women with Fibromyalgia

Patients of Fibromyalgia are often diagnosed based on their tender points. These are specific areas around your joints when a doctor put pressure on them or touch them they patient feel hurt. They are sore points in the body.
According to recent studies, women have typically two more tender points than men. Even women's tender points are more sensitive than men's. They feel these tender points in the following areas of the body: the back of the head, top of the chest, front of the neck, area between the shoulders, outside of the elbows, insides of the knees, top and sides of the hops.
Increased bladder pain and bowel problems in women

Another common area where tender point appears is a woman's pelvic area. When a woman feels long-lasting and recurring pain in the pelvic area for more than six months, then this condition is known as chronic pelvic pain and dysfunction (CPPD). These pain start from the pelvic area and spread down into thighs.

Now when a woman experiences CPPD, then fibromyalgia brings some other associated pain for her, such as irritable bowel syndrome (IBS) and painful bladder syndrome (PBS). According to a reason, patients of fibromyalgia who has IBS can likely develop PBS. Almost 32 percent who have IBS, they also experience PBS.

Another study clears that IBS is more common in women than men. Almost 12-24 percent of women have IBS, while only 5-9 percent of men suffer from IBS. The exact relationship of fibromyalgia with IBS and PBS is still unknown.
More fatigue and feelings of depression in women

According to a study of Oxford University Press, women with fibromyalgia have a high level of depression than men. They experience more intense pain, tender points, and menstrual cramps. Even some women feel sleep apnea and restless leg syndrome. All such symptoms affect their sleep quality.
When they could not sleep at night, they would not feel fresh and active in the day time. It becomes hard for them to maintain focus on their routine work. They feel tired and depression due to their high sensitivity to fibro pain. Men also experience the same symptoms but, not at a very high level. Therefore, they tend to experience less fatigue and depression than women.

.
Other symptoms that affect women and men
Headaches lead to migraine
Rising sensitivity of bright lights, loud noises, and temperature change
Fibro fog
Nausea and vomiting
Jaw pain
Fibromyalgia Diagnosis and Treatments

When symptoms of fibromyalgia start affecting your life severely and you fail to concentrate on work, then it is the right time to consult with your doctor. There is no specific lab test to confirm the fibromyalgia diagnosis. Usually, a doctor rules out a diagnosis based on symptoms and some medical questions.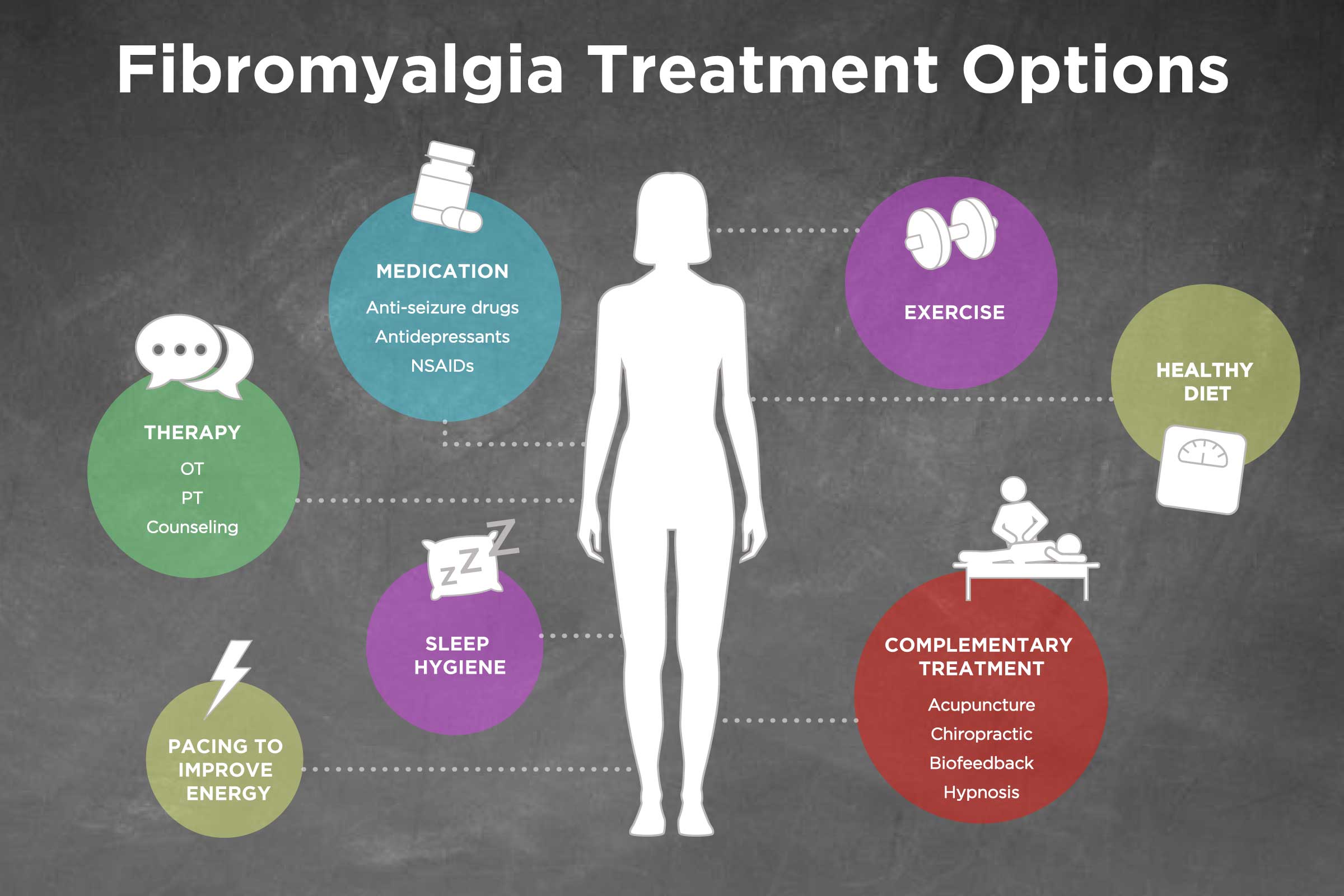 To deal with your Fibro intense pain, you can use over-the-counter painkillers. However, it is good to visit a doctor who prescribes you medicines required to treat this disorder. Common drugs are duloxetine (Cymbalta), gabapentin, and pregabalin (Lyrica).

According to a study in 1992, people who consumed malic acid and magnesium found a significant improvement in their muscle pain within 48 hours. This pain reverted when they took a placebo pill after two days.

Lifestyle changes and Exercises

There are some exercises which help you cope up with fibromyalgia depression, sleep problems, and pain. You will have to make some changes in your lifestyle. A shift from an unhealthy to a healthy diet plan is a must.
A patient of fibromyalgia must know that only medicine is not complete treatment. If you really want to see improved results over time, you will have to combine different ingredients of treatments. It means doing regular exercise, making a healthy diet plan, and try some therapies.

Alternative medicine
You can deal with fibromyalgia symptoms through alternative medicine procedure. Here is what you can do. If you have painful menstrual cramps, then you should apply heat over your abdomen.

Whenever you experience intense pain level, consider going for a cognitive behavior therapy through which you can better manage your thoughts and behavior. Thereby, you can influence your pain in a better way.

Stress is a common symptom of fibromyalgia. Think of learning stress management techniques. You can learn relaxation techniques and meditations. Depression can be dealt with yoga, massage therapy, or acupuncture. Even regular exercise make you feel less depressed than before.
People with fibromyalgia often complain about low quality sleep. This symptom can be minimized by limiting daytime naps and avoiding caffeine. In case you are suffering from IBS, you should skip milk, caffeine, sugar, and alcohol in your diet. Instead, you should start using fruits, plants, and vegetables.
Why do men experience Low-level Fibro pain than women?

The mind of a man actively releases natural substances endorphins that activate its pain-killing receptors. Therefore, men with fibromyalgia experience less pain than women.

Another reason is testosterone in men's body. Some clinical studies reveal that men with the highest testosterone level are the least prone to fibromyalgia. Testosterone might be protective against pain in men. Women also have testosterone, but at a deficient level- that is not adequate to fight against fibro pain.

Testosterone helps men to experience symptoms of fibromyalgia differently than women. They feel comparatively less central, fewer migraine or sleep disturbance in comparison to women.

Conclusion
Symptoms of fibromyalgia affect women more than men. Female patient experience intense pain, more tender points, more depression, and sleep issues than men. Their menstrual period becomes highly painful due to fibromyalgia. This chronic disorder affects women differently than men due to hormonal imbalance, genes, and immune system differences.